Hello, dear readers!
This week I thought I'd introduce you to some of the bloggers whom I've found to be the most influential over the last year or so.
Towards the end of 2013 and at the beginning of this month I noticed that many bloggers were taking the time to reflect on the past year and one thing that a lot had in common was to list who they considered to be their 'top' bloggers.
At the time that everyone else was doing it I already had my next couple of posts planned but I decided that it would be good if I too took the opportunity to highlight just a few of my favourite bloggers at some point.
So, in this post that is precisely what I will be doing.
My Top 10 Bloggers of 2013
Now, if I were to list all my favourite bloggers then we could be here some time! So I decided that I would pick just ten based on some specific criteria. They are bloggers who have demonstrated one or more of the following:
provided me with valuable blogging tips and tricks
set a good example in how things should be done
inspired me to carry on and keep pushing forwards
have been supportive, encouraging and helpful to me
Some of these you may have heard of before, others perhaps not. I highly recommend that you check out all of their blogs though, if you haven't done so already.
So without further ado, I introduce you to…..
Jerry Handy was one of the first people I connected with on my blogging and online business journey. We met through Alex Jeffreys' Marketing With Alex course and both went on to become partners in Dean Holland's iPro program.
Aside from always giving me plenty of encouragement, I have always been impressed by Jerry's dedication, commitment, drive and focus. He will always help someone out if he can and he truly wants to see other succeed.
John Chow is probably one of the most famous bloggers in the world. His story is truly inspiring and he has helped many, many people to earn a successful living through blogging.
Although John often gives plenty of 'gold nuggets' that can be applied to online business, what I especially like is his no-nonsense approach and I often find his videos highly motivating. His "Driving With John Chow" series is particularly enjoyable and I have a couple of those videos bookmarked for personal reference.
Dita is another of the partners in iPro. In the year that I've known her it's become apparent that she's the 'go to' person for all things blogging, often being referred to as the "Blogging Queen".
I have picked up a tremendous amount of useful information both from Dita's blog and from talking with her one-to-one. She has also been a constant source of encouragement and support to me and is another person who is always ready to help someone out if she can.
The more I blogged, researched blogging and visited other people's blogs, the more one name kept popping up – Adrienne Smith.
Adrienne is one special lady, although she may not agree with that accolade! But it's a deserved one because Adrienne's reputation really does precede her in the blogosphere.
One thing that I have learned about blogging is that it's important to be yourself, engage your audience, treat them with respect and make them feel valued. I think it's safe to say that all the bloggers whom I follow do all those things, but Adrienne always strives to go above and beyond. She has a knack of making you feel very welcome on her blog, very much a 'come in, put your feet up and have a nice cup of tea' approach.
Adrienne also knows her stuff and there is a huge wealth of priceless information on her blog.
John Thornhill is another person whose reputation precedes him. Perhaps better known for his coaching and a plethora of excellent Internet marketing products, it would be shortsighted to overlook John's blog. He doesn't post as often as some, but his posts are always valuable and John has years of experience in the industry.
John is another person who has a no nonsense approach, which soon becomes apparent if you ever watch any of his 'rant' videos!
I also highly recommend John's excellent Simple Traffic Solutions course.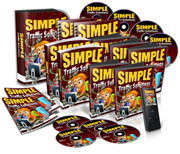 Like John Thornhill, Dan Sumner is an Internet Marketer from the north-east of England. Dan has recently rebranded his business and has launched a brand new blog, so please don't forget to stop by and give him your support.
What I've always found appealing about Dan is his honest, down-to-earth approach. On his old blog I picked up many useful tips regarding blogging, marketing and also technical tips and tricks. I'm sure that his new blog will continue that legacy.
Ben is someone else I met through Alex Jeffreys' Marketing With Alex course. He's a great guy who, again, has always given me plenty of encouragement and support.
Ben is also an IT security expert and I was privileged recently to have him as my very first guest poster on my blog. He wrote an excellent post about how to protect yourself on the Internet. Recommended reading!
To be quite honest, I can't recall how I met Tim, although I think that it was probably through blog-hopping. Tim is another blogger who has always given me plenty of support and encouragement and again, always has fantastic content on his blog.
Tim was also the one to introduce me to Triberr, which has been a great resource for finding other bloggers, great content and building my social media presence. It was through Triberr that I came across……
Ashley is an amazing guy. His blog is a veritable treasure trove of tutorials, tips, reviews and other great stuff. He's also a thoroughly nice chap.
When I first joined Triberr I knew that many people were having success with it but I just couldn't get my head around it, so I left off from it for a few weeks. It was only when I came across a fantastic post of Ashley's that explained simply and concisely just how to use Triberr that it just 'clicked' and I was able to add it to my arsenal of blogging tools.
Barry is someone else whom I think I met via my blog-hopping travels, though I don't quite recall. He's another lovely chappie who is always very encouraging and supportive and if you come across him anywhere online you'll soon realise that he's always ready and willing to help out if he can.
Just like all the bloggers I've mentioned already, Barry always has great content on his blog and you'll be sure to find some gems that you can take away with you.
Honourable Mentions
Please bear in mind that this isn't a definitive list. There are lots of other bloggers whom I visit regularly and whose blogs I would recommend. But I just wanted to pick ten (a nice, round number) of those who have particularly influenced and helped me and whom I can highly recommend checking out.
If they had still been blogging then I would have also included Neamat Tawadrous and Lee McIntyre. Neamat is taking a break at the moment but when she was blogging she always provided fantastic content and never failed to be upbeat, encouraging and motivational. I do hope she returns one day, I really miss her blog.
For anyone who's been around Internet marketing for any degree of time, you'll likely be familiar with the name, Lee McIntyre. Lee is still very much active but he closed down his blog a few months ago. When his blog was still running it was an excellent resource, filled to the brim with priceless information for advancing your online business. These days Lee posts regularly on his Facebook page and I would highly recommend that you check that out.
Over to You
Hopefully I've introduced you to some bloggers with whom you may not have been familiar before. Please check out their blogs and leave them a comment, I'm sure they'll appreciate it very much.
I'd love to know who you've found to be the most influential and helpful. Please let me know in the comments section below.
See you next week!
Glenn