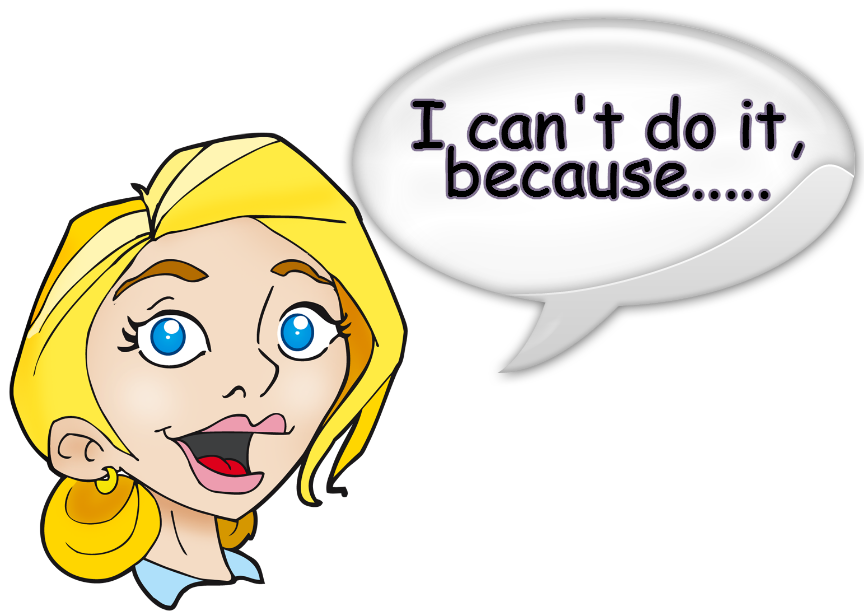 What is Your "Because"?
Hi everyone!
In the last post I wrote you may recall that I spoke briefly about obstacles that can hold you back. Also, back in April I wrote a post all about motivations, the "why" behind what it is you're doing. Well this post is the follow-up post to both of those, this time dealing with the "because" that so many of us face many times. In fact, just as there are many "whys" there are also many "becauses". "Becauses" – is that even a word?? Well, it is now!
So then, what are yours? In other words, what are your excuses, your reasons for not doing something? I could probably write a whole book on these, but let's consider some of the most common ones.
Also, this isn't meant to be an in-depth analysis of each obstacle because, again, we'd probably be here all day! Rather, I'm just going to address each concern and look at what I believe will help you to look at them differently than you perhaps have been doing. Once we have taken a look at these and hopefully helped you to eliminate them, then I hope that this will give you the confidence and determination to eliminate some of the others that you may have:
"I don't know where to start."
If you feel like this then I totally get where you're coming from, I really do. I'd been researching, experimenting, buying, trying all kinds of things for a number of years and never got anywhere at all. I'd accumulated quite a lot of knowledge about various things, including quite a fair bit about Internet marketing. Yet, I didn't know where to start. The obvious answer is, "Start at the beginning", but unless you know where it is you're looking then it can be difficult to wade through the quagmire to find just where the beginning is.
Ultimately, you need guidance and, ideally, you need a proven system to follow. If you can see the direct results of it then that can give you the confidence that they system teaches what it claims to. For example, take a look around my site. How have I managed to get to the point where I'm at now? Before I launched this website I didn't have a clue as to what I was doing, how to start, where I was going or how I was going to get there! But by following the steps of a proven system and putting into practice what I was being taught, I was able to piece things together, learn as I went and improve all the time.
"I don't have enough knowledge."
One of my favourite sayings is something that Alex Jeffreys says a lot: "Don't get it perfect, just get it going". If we wait until we have enough knowledge then we can end up waiting and waiting and waiting, never getting anything done. We can always acquire more knowledge and we will have to start somewhere.
Rather than wait until some perceived ideal moment, just take action and get things moving. If you have the guidance and steps to follow as mentioned in the previous point then it's not as though you even have to do it alone. But even the best teaching will do you no good unless you act upon it.
Knowledge doesn't lead to results – action does. You can always accumulate knowledge as you go along, but you can't obtain results without taking action.
"Why me? Who would be interested in what I have to say?"
Why NOT you? Listen, don't sell yourself short! I've seen a lot of blogs. Some appear so professional that they could easily make a beginner wonder what they could possibly bring to the table amidst so many experienced and established bloggers. But I'll tell you what I often find in these cases…
The blogs are BORING! Now it would be very unfair to say that this is the case with all of them, but so very, very often I find that it's the slick, corporate looking blogs whose content is devoid of any feeling or engagement with the reader. Remember – it's the CONTENT that's truly important, so be yourself and write from the heart. True, some are more gifted than others when it comes to writing, but if you put yourself into your writing then you'll find that people will relate to you far easier.
Also, people enjoy a story. So tell it! Tell your readers about yourself, your struggles, your ambitions, your desires. Tell them about what you've learned, the mistakes you've made and how you're progressing. This keeps things personal, believable and people can relate to it. Furthermore, if you have readers that aren't so far along as you then they can even learn from what you write!
This doesn't only apply to blogs, it applies to whatever it is that you're writing – blogs, e-books, articles, e-mails, etc. Just remember to be genuine and be yourself.
"Who would buy from me?"
I think that this is one of the simplest concerns to address, the answer being: "anyone who wants what you're selling". Think for a moment about the products you buy. Putting aside for now the aspect of brand preference or previous experience, why do you buy them? It's because you have a need or a desire and you perceive that the product will meet this need or desire, no?
Your potential customers will view your product in exactly the same way. So if you present it in an appealing way that clearly states the benefits then you will generate interest. If your product is good (which we would hope it is!) then people are more likely to buy from you again and perceive you as an authority, regardless of whether you've been doing this for 10 years or 10 days.
"I don't have enough money to invest."
You don't need it. This doesn't mean that you can miraculously start raking in money overnight from nothing and with zero effort, despite what some of the supposed gurus would have you believe. If such a way does exist then please, let me know!
In order to get started, whilst it's true that it's best to invest in certain things such as your own domain name, hosting, etc, it isn't absolutely essential.
There are free options out there for those who are on a very low budget. I will be covering this subject in more detail in my forthcoming free e-book and video course.Having a certain amount of capital to invest will help, that's for sure. But don't be discouraged if you don't have any or have very little.
You can absolutely start from nothing and work your way up. It can take time to scale up but, as we've already said, we're not expecting overnight success and riches.
"I'm not technically minded."
Take a look at a lot of other people's blogs and notice how many of them say the same thing, whether it be how they are currently or how they were to begin with. You'll see lots of 'non-techie' types who have created amazing websites and deliver fantastic content.
These days it is so quick and easy to do what, just a few years ago, was difficult, confusing and time-consuming. There's an abundance of good, free information online and also, if you get involved in an online community of like-minded individuals then you'll be sure to get lots of help and advice.
"I feel overwhelmed."
Firstly, you need to establish why it is exactly that you feel this way. Write down anything that you feel is causing you to feel this way. Next, try to narrow things down to the absolute basics that you feel would be necessary in order to start. For example, if you're just starting out but are worried about how to manage a mailing list of 100, 000 subscribers and how to best deliver content by means of a membership site, then these are things that you can put away for the time being.
Don't allow yourself to get worked up worrying about things that don't concern you right now. Just focus on the absolute basics to begin with and take things one, tiny step at a time.
So take a look at your list, think about the things that aren't essential to concern yourself over right now and cross them out until you're left with your absolute basics. Remember – making money online requires hard work, but it needn't be difficult.
"What if I fail?"
You won't, not completely and not unless you allow yourself to. It's not all going to be plain sailing, few things in life ever are. But when you hit an obstacle, how will you deal with it? Will you just give up? Or will you look for a way to remove or go around the obstacle and keep going? Even what can appear as the most difficult obstacles can be overcome and learned from.
So never give up and you won't fail. And never be afraid to ask for help! Again, being part of a community of other people on the same journey is really in invaluable source of help, encouragement and expertise. Internet blogging expert, John Chow has a brilliant view on problems – you don't have problems, only opportunities. Take a look at his inspiring video below, I love this:
And finally, no matter how many times this keeps popping into your mind…
"I can't."
… always remember, "You CAN!"
I hope that you enjoyed this post. Don't forget that old Albert is waiting for you to tell him below! I'd love to hear about what obstacles you've faced and how you overcame them, or if you're just starting and you have any 'becauses' that you feel are holding you back, please share them too.
And if you want a great starting point that will help you to get going step-by-step, then I highly recommend checking out this fantastic course that has already transformed hundreds of lives: